Boost customer satisfaction
Deliver tailored customer service across all digital channels with AI-enabled experiences. Improve support by organizing your customer-facing help center resources and providing proactive service, and gain insights and ensure you're running at maximum efficiency.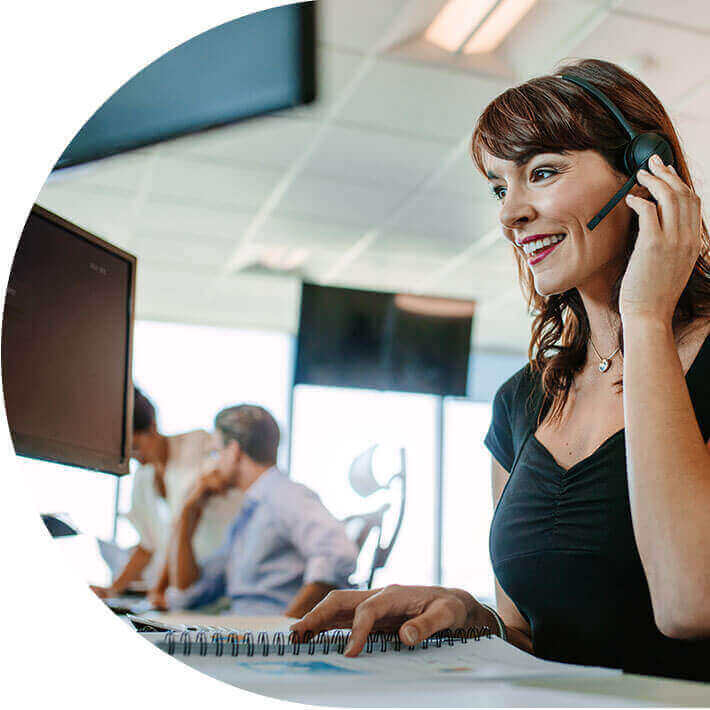 Use a native voice channel solution that gives you immediate access to customer interactions insights and AI-driven topic clustering.
Employ AI to enhance solutions like conversational IVR and real-time agent productivity tools like call transcription, sentiment analysis, etc.
Create personalized customer satisfaction surveys with multiple delivery mechanisms, through a built-in survey designer with an editor and rich design logic.
Guarantee a seamless and flawless experience across the customer journey, between agents, bots, and via all digital channels and touchpoints.
Cross-company collaboration
Engage experts faster with cross-company collaboration with a customizable platform for users with different levels of access permissions and rights.
Engage AI-powered suggestions to read real-time context cues and recommend knowledge articles or cases to resolve customer issues more quickly.
Steer customer-agent conversations to a positive resolution by using ML models to detect social posts sentiment & intent on customer service cases.
Integrate Call Center app with the Customer Service solution, so that agents have instant access to customer data from a single application.
Deliver fast, personalized service & support
Set a 360° view of each customer's journey that enables agents to anticipate needs and personalize every interaction. Use service and support as an up-sell or cross-sell opportunity by empowering agents with AI & ML-driven recommendations.
Get AI-driven insights to improve support
Identify and respond to current and emerging trends with AI. Reduce wait times, improve resolution rates, and increase customer satisfaction. Boost operational efficiency by quickly evaluating and responding to KPIs with custom dashboars.
Learn from every customer interaction
Improve the service experience through survey feedback, discussion forums, and social listening. Onboard new agents and keep them up to date on new features and best practices with the in-app learning functionality that is always available.
Engage with customers on any channel & device
Build the most powerful AI customer service framework in the market. Resolve issues with predictive care. Analyze data from connected devices and take action before warning signs become a problem. Route cases to the right agent for quick resolution.
Boost employees' productivity, efficiency & agility
A platform where agents can view their open cases, resolve them, or escalate them to the appropriate role and meet their SLA's, while supervisors can access customizable performance reports based on AI technology, and better evaluate their team.
Find out more about our success stories and how our customers made the most out of our services.
Pobuca is helping everest to build a loyalty scheme and obtain an omnichannel approach with its members.
Upgrade customer service!