Our event "Unlock your business growth with CRM" was a success!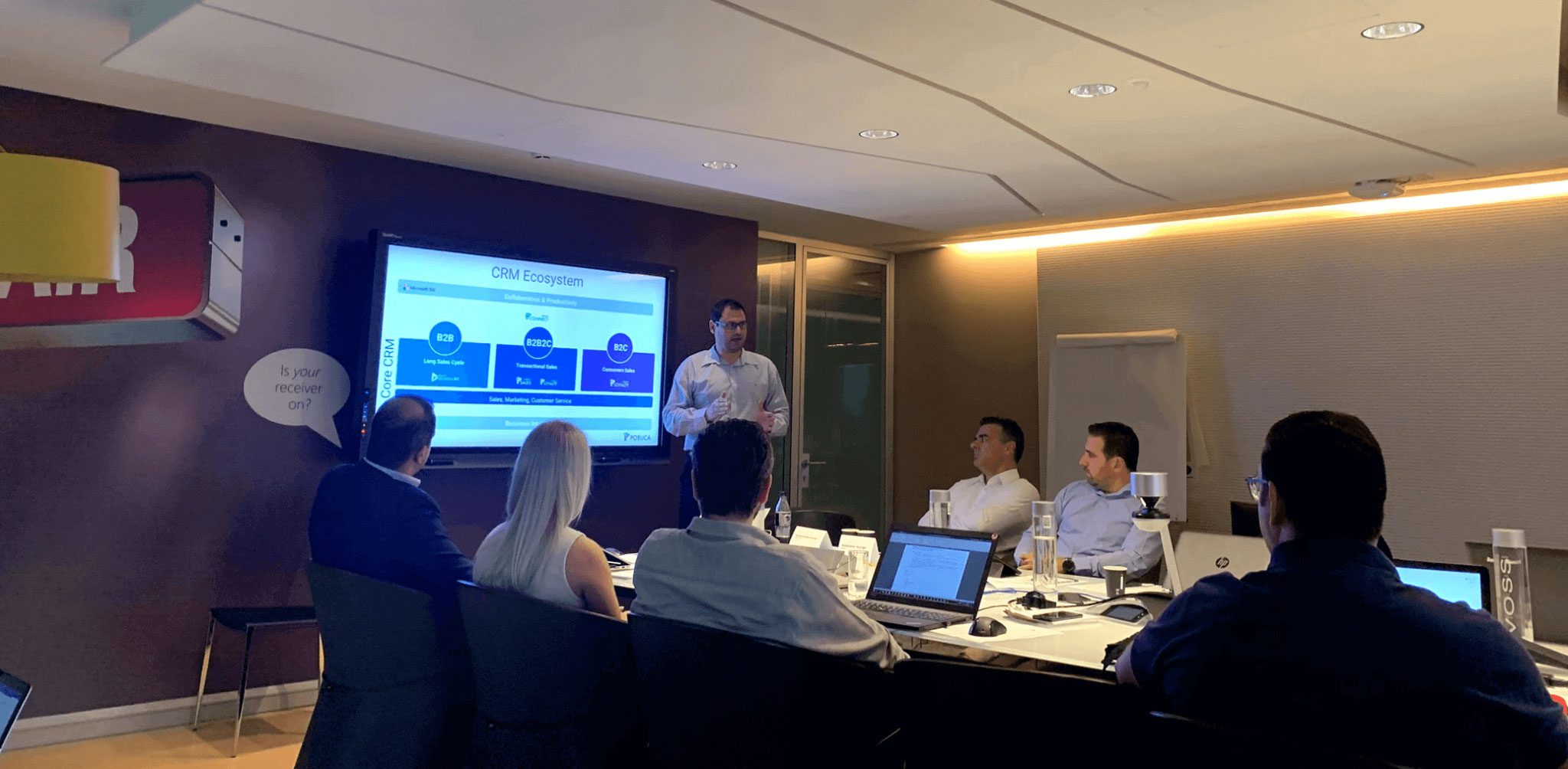 "CRM promises your business growth, we are here to realise it!", Isidoros Sideridis, CEO.
The event of Pobuca entitled "Unlock your business growth with CRM" which took place on Thursday, 27th of June at Microsoft Hellas has been successfully completed. The purpose of the event was to enable enterprises to achieve business growth and profitability through CRM.
The event was greeted by Fotis Draganidis, Technology Manager of Microsoft Hellas and Ioannis Koutrakos, Head of Marketing of Microsoft Greece, Cyprus, Malta who emphasized the excellent cooperation and strategic partnership in CRM and AI between the two companies.
Isidoros Sideridis, Pobuca CEO, made a brief presentation of Pobuca and CRM market trends & vision, in which he also talked about productivity (O365), BI and the new Pobuca Connect Relationships.
Afterwards, the event was divided into three simultaneous sessions based on the business type our attendees belong to.
In the conference room which was about CRM for B2B Sales with long sales cycle, Nikos Tsantanis, Head of Integration presented the reasons why CRM projects fail and how modern enterprises can overcome this barrier. Andreas Galanis, Head of Consulting services presented Dynamics 365 for Sales, Marketing & Customer service. Natali Raouzaiou, Technical Manager talked about Modern Business Intelligence and its contribution to better data driven strategic decisions.
The second conference room was all about CRM for B2B2C Sales with short sales cycle. Marilena Derdelakou, Pobuca Sales Director and George Argyrakis, R&D Manager made an extensive discussion about field sales automation, order management as well as merchandising and shared a demo of an ordering, consumer engagement and customer service bot. Then, Chrysa Kefala, Business Development Manager talked about consumer engagement and loyalty in brands and explained why the trend of Direct-to-Consumer (D2C) is gaining more and more ground.
Finally, there was also a session about CRM for B2C sales (retail), in which Marion Nikoloudaki, Pobuca Loyalty Director analyzed how Pobuca Loyalty can help brands and retailers boost customer engagement and loyalty and presented two demos, one of Pobuca Loyalty Interface and one of the AI-driven Loyalty Chatbot. Subsequently, Maria Mallia, CRM & Loyalty consultant of Pobuca talked about customer engagement and loyalty consulting services.
It is worth mentioning that the event was attended by representatives of various modern Greek enterprises who had the opportunity to learn how to leverage AI with Pobuca Suite and achieve better customer engagement.

Agenda – Presentations: 
09:30 – 10:00 | Coffee & registration 
10:00 – 10:25 | Microsoft and Pobuca: strategic partnership in CRM and AI | Fotis Draganidis, Microsoft Hellas 
10:25 – 10:55 | CRM for growth: trends and future vision | Isidoros Sideridis, CEO, Pobuca
10:55 – 11:05 | Q&A 
11:05 – 11:25 | Break 
11:25 – 13:00 | Three Parallel Sessions: 
13:00 – 13:30 | Light Lunch & Networking